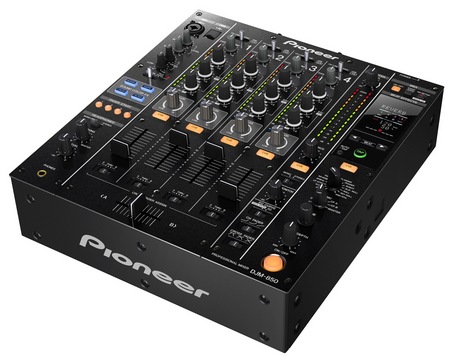 Pioneer launches its new DJM-850 performance DJ mixer featuring the industry;s first BEAR COLOR FX function, which changes effects by linking the audio input of each channel. The new mixer can be used with today's popular DJ software and is TRAKTOR SCRATCH 2 Certified, offering compatibility to the Scratch Control (DVS) with Native Instrument's TRAKTOR SCRATCH PRO 2/DUO 2 software.
The DJM-850 features Sound Color FX, which offers four types of effects (Filter, Crush, Noise and Gate) that can be linked to the input sound of each channel; and the Beat Effect function that presents 13 different types of effects (Delay, Echo, Up Echo <new>, Spiral, Reverb, Trans, Filter, Flanger, Phaser, Robot, Slip Roll, Roll, and Reverse Roll) that can be combined to produce up to 100 other original effects. Using BEAT COLOR FX, users can manipulate the Sound Color FX and Beat Effect simultaneously, resulting in more creative effects that complement the beat of the music.
The Pioneer DJM-850 comes with built-in 24bit/96kHz USB sound card that allows for up to four inputs/outputs simultaneously with no deterioration in sound quality. The sound card supports 96kHz/48kHz/44.1kHz sampling rates and the ASIO/Core Audio standards that can also be used for music recording and production. The mixer is equipped with a 32-bit digital-to-analog output converter and a 32-bit digital signal processor, separate analog and digital circuitry for enhanced sound quality. It also features Switching 3-Band EQ/Isolator, P-LOCK Fader Cap and channel faders using slide mechanism.
Coming in black and silver in March, the Pioneer DJM-850 DJ mixer costs $1999.
No. of channels
Audio: 4, Mic: 2
Inputs
CD/LINE x 4 (RCA), LINE x 2 (RCA), PHONO x 2 (RCA)MIC x 2 (XLR & 1/4 inch PHONE combined use x 1, 1/4 inch PHONE x 1)
Outputs
MASTER OUT x 2 (RCA x 1, XLR x 1)BOOTH OUT x 1 (1/4 inch PHONE)

HEADPHONE MONITOR OUT x 1 (top side 1/4 inch PHONE)

REC OUT x 1 (RCA)

DIGITAL OUT x 1 (COAXIAL)

Other ports
SEND X 1 (1/4 inch PHONE), RETURN x 1 (1/4 inch PHONE)MIDI OUT x 1 (5P DIN), USB x 1 (top side B port), CONTROL x 4 (Φ3.5 mm MINI JACK)
Sampling rate
96kHz/48kHz/44.1kHz
D/A converter
32 bit
A/D converter
24 bit
Frequency response
20 Hz – 20 kHz
Total harmonic distortion
0.004% or less
S/N ratio
Min. 106 dB (LINE)
Head-room
19 dB
Power use
120 V AC (60 Hz)
Electricity consumption
30 W
Max. external dimensions
12.6" (W) × 15.0" (D) × 4.25" (H)
Weight
17 lbs.