Pioneer adds to its Elite line two new networked home theater receivers, the 7.1-channel VSX-43 and 7.2-channel VSX-70. Both of them, like other Elite models, are designed to handle studio quality audio and visual content and multi-channel needs. They also feature expanded multi-zone and multi-source management and functionality.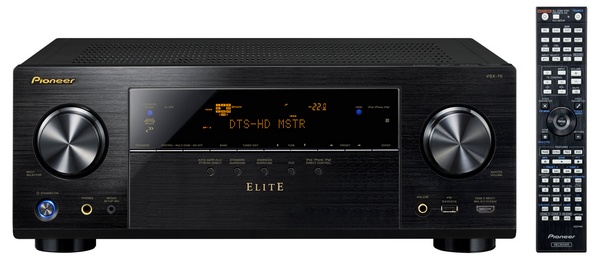 The VSX-43 can be used in a  true 7.1-channel setup or for 5.1-channel, with the two extra channels powering a pair of speakers in a second room (Zone 2). Two different audio sources can be sent to each zone simultaneously. On the other hand, the VSX-70 provides simultaneous entertainment in up to three zones – a main zone, a powered Zone 2 (two speakers in a second room) and a third HDZone (additional HDMI source to a third room).
Pioneer's new receivers support 4K Ultra HD Pass Through to bring 4K signals to compatible displays. The VSX-70 is capable of upscaling analog and HDMI video signals for 4K Ultra HD resolution when used with the latest 4K displays. They support Dolby TrueHD, Digital Digital Plus, Dolby Pro-logic IIz, DTS-HD Master Audio audio codecs and are able to play WAV, MP3, WMA, AAC, FLAC, AIFF and Apple Lossless files from a networked computer or plugged-in USB flash drive. With DLNA and AirPlay, users can stream media wirelessly from compatible and there is wired Ethernet connection and optional wireless connectivity via AS-WL300 adapter.
The new Elite receivers also feature smartphone integrations. Users can use Pioneer's ControlApp and iControlAV2013 App to control the receivers. Their front HDMI input is MHL-compatible for showing content from MHL-equipped smartphone or tablet easily.
The VSX-43 and VSX-70 are priced at $525 and $750, respectively.