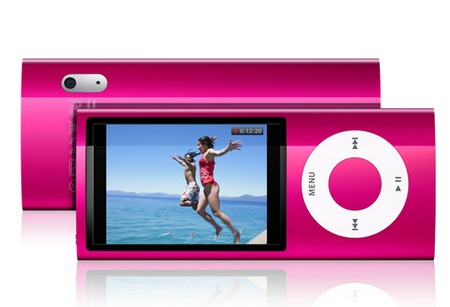 Apple made its new iPod nano 5G official. As expected the new iPod nano gets a camera. Also added is a built-in FM tuner with Live Pause and iTunes Tagging.
iPod nano's camera is able to capture H.264 VGA 640×480 video at up to 30fps with AAC audio. Users can apply to their video 15 real-time special effects, Sepia, Black and White, X-Ray, Film Grain, Thermal, Security Cam, Cyborg, Bulge, Kaleido, Motion Blur, Mirror, Light Tunnel, Dent, Stretch, and Twirl. The new nano gets a larger 2.2-inch 376×240 LCD display (up from 2-inch), VoiceOver like the iPod Shuffle 3G, voice memo function and a pedometer for Nike+ integration.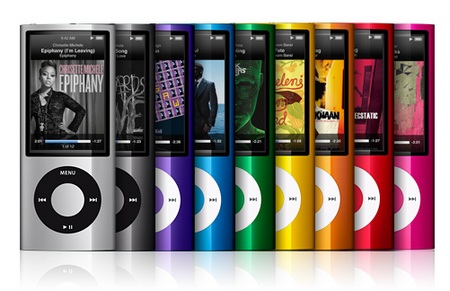 Apple's iPod nano 5G includes FM tuner as well. What's so special is the Live Pause function that lets you take a quick break from listening to your favorite radio station with a click. You can even rewind as far back as 15 minutes, then fast-forward to catch up to the live broadcast. The new 5G nano measures exactly identical to the iPod nano 4G. It comes with a brilliant polished anodized aluminum finish comes in nine electrifying colors, with PRODUCT RED and Gold Apple Store exclusive. 8GB version is priced at $149 and 16GB at $179.