Apple updates its iPod nano music player, which is now available in nine colors. This the the forth generation of the iPod nano. This iPod nano 4G is the thinnest iPod Apple has made.
Instead of the fat body of iPod nano 3G, the 4G is now taller and slimmer and looks more stylish, which is more like the 1G and 2G nano. It is now available in Silver, Black, Purple, Blue, Green, Yellow, Orange, Red (PRODUCT RED) and Pink.
Other than having a new look, the iPod nano 4G features the new Genius for music recommendation and accelerometer has been added for auto orientation and the "Shake to shuffle" feature.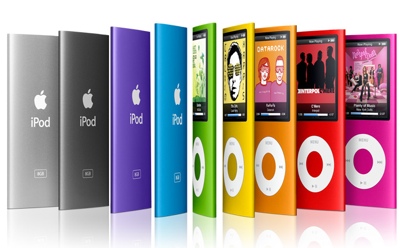 This iPod nano has a 2-inch LCD display and either 8GB or 16GB capacities, which are priced at $149 and $199 respectively.