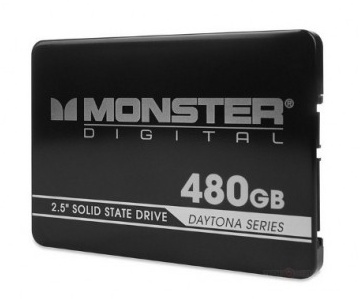 Monster Digital introduces the Daytone Series of solid state drives designed for users to upgrade their notebooks, Ultrabooks or desktop computers. The 2.5-inch Daytona has a super thin 7mm universal fit stainless steel case and uses SATA III interface for ultra-high speed performance.
Daytona series offers up to 550MB/s read and 515MB/s write speeds and 60k IOPS performance. The drive include 256-bit AES encryption for data security. Available in 90GB, 120GB, 240GB and 480GB capacities, you can get the Daytona for $99.99, $109.99, $229.99, and $479.99 respectively.
Intended for upgrade, the 120GB, 240GB and 480GB also comes in upgrade kit set that includes the Easy Installation Kit for easy upgrade and data cloning to ensure a seamless transition. The kit includes a 3.5-inch drive bay adapter,  SATA III-USB 3.0 adapter, and cloning software. The upgrade bundle is available for $134.99 for 120GB, $234.99 for 24GB and $484.99 for 480GB.