Following the HyperX MAX 3.0 and HyperX SSD, Kingston launches the new Hyperx 3K solid state drive intended to deliver high-performance at a lower price. As the company said, the series is ideal for budget-minded gamers, enthusiasts, multitaskers, overclockers and system builders. The new HyperX 3K utilizes 2nd generation SandForce SF-2281 processor and uses SATA III 6Gbps interface.


Based on MLC NAND flash, Kingston's new 2.5-inch HyperX SSD comes in 90GB, 120GB, 240GB and 380GB capacities. It offers up to 555MB/s read and 510MB/s write speeds and a 4KB Random Read/Write performance of 85,000/74,000 IOPS. It supports S.M.A.R.T., TRIM command and Garbage Collection as well as SandForce DuraClass for maximized life span and durability. The SSD has a aluminum case and comes in sleek black.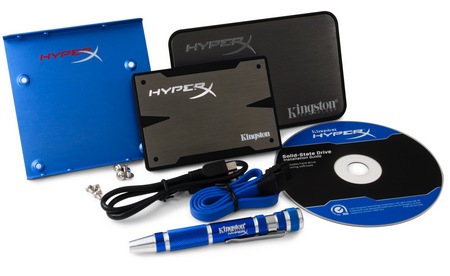 Kingston's HyperX 3K is available as either a stand-alone drive with 3.5-inch bracket or in an upgrade kit that will include a 2.5-inch USB enclosure, a 3.5-inch bracket, SATA data cable, hard drive cloning software and a multi-bit screwdriver.
Models and pricing:
Kingston HyperX 3K Solid-State Drives
Part Number
Capacity and Features
E-tail Price*
SH103S3/90G
90GB Stand-alone SSD
$ 139.99
SH103S3/120G
120GB Stand-alone SSD
$ 169.99
SH103S3/240G
240GB Stand-alone SSD
$ 319.99
SH103S3/480G
480GB Stand-alone SSD
$ 699.99
SH103S3B/90G
90GB HyperX Upgrade Bundle Kit
$ 149.99
SH103S3B/120G
120GB HyperX Upgrade Bundle Kit
$ 179.99
SH103S3B/240G
240GB HyperX Upgrade Bundle Kit
$ 329.99
SH103S3B/480G
480GB HyperX Upgrade Bundle Kit
$ 709.99