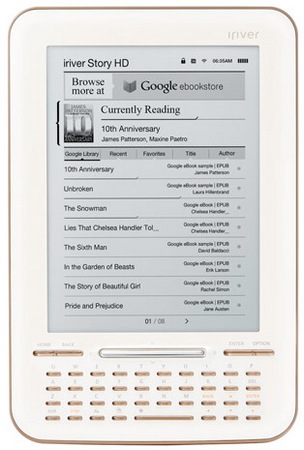 iRiver is launching its Story HD e-book reader in the US market exclusively via Target. The Korean company's new reader is the first device to be fully integrated with Google eBooks platform offering more than three million ebooks at no cost and thousands of additional titles for sale.
The Story HD features a 6-inch 768×1024 e-ink display offering 63.8 percent more pixels than other e-readers, a QWERTY keyboard, SD card slot, and USB 2.0 connector. It is powered by a Cortex A8 chipset. The e-reader has a sleek, signature style and a curve with two-tone colors at the front and back for easy grip and slim design.
The iRiver Story HD weighs just 7.3oz, making it one of the lightese reader of its class. Its internal battery enables users to select 14,000 of its non-glare pages, or simply keep the device on standby for up to six weeks, all on a single charge. The Story HD is priced at $139.99.