Archos announced its G9 series Android tablets, including the 80 G9 and the 101 G9, both running Android 3.1 Honeycomb OS. The G9 tablets are powered by TI's OAP 4 processor with ARM Cortex dual-core A9 running at 1.5GHz. They can be equipped with either 16GB flash memory or a 250GB hard drive.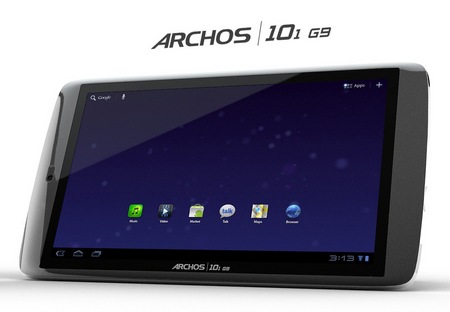 The Archos 80 G9 has a 8-inch 4:3 1024×768 touchscreen while the 101 G9 comes with a 10.1-inch 16:10 1280×800 touchscreen. They sport a 720p front camera with 720p HD video recording, WiFi 802.11b/g/n and Bluetooth connectivity, built-in GPS receiver and compass, built-in speaker, microSD/SDHC card slot and HDMI output. According to Archos, the G9 tablets "are the only tablets able to decode 1080p H264 High Profile videos whilst current standard tablets are not even able to play 720p H264 High Profile smoothly."
Instead of offering a 3G model with integrated 3G modulr, Archos decided to release a 3G USB dongle for the G9 tablets. The $49 dongle is a standard 3G stick for laptops which has been designed to be compatible with all ARCHOS G9 tablets, adding support for 3G mobile network. The Archos 80 G9 starts at $279 and the 101 G9 at $349.