Kingston has just announced its latest SSDNow V+100 series solid state drives, designed to provide corporations with a viable solution to extend the life of currently installed client systems while meeting user performance expectations.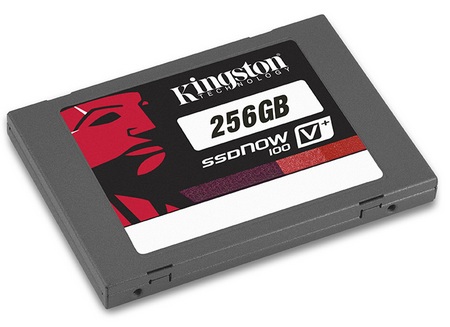 Other than the common 64GB, 128GB, 256GB and 512GB capacities, Kingston adds a 96GB model to the V+1– line offering a broader range of choices to enterprise customers. Based on MLC NAND Flash, the 2.5-inch SSDNow V+100 delivers up to 230MB/s read and 180MB/s write speeds. The SSDs supports S.M.A.R.T.: Self-Monitoring, Analysis and Reporting Technology and Windows 7 TRIM commands. Other than standalone drives, the V+100 series is also available in upgrade bundle kits.
Kingston is also offering the SSDNow V+100E series that adds full-disk 128-bit AES hardware-based encryption to protect all data stored on the drive.
SSDNow V+100 Models:
Kingston SSDNow V+100 Solid-State Drives
Part Number
Capacity and Features
MSRP
SVP100S2/64G
64GB 2.5″ SATA SSD (stand-alone drive)
$ 220.00
SVP100S2/96G
96GB 2.5″ SATA SSD (stand-alone drive)
$ 274.00
SVP100S2/128G
128GB 2.5″ SATA SSD (stand-alone drive)
$ 390.00
SVP100S2/256G
256GB 2.5″ SATA SSD (stand-alone drive)
$ 885.00
SVP100S2/512G
512GB 2.5″ SATA SSD (stand-alone drive)
$ 1,885.00
SVP100S2B/64G
64GB 2.5″ SATA SSD (complete bundle)
$ 236.00
SVP100S2B/96G
96GB 2.5″ SATA SSD (complete bundle)
$ 290.00
SVP100S2B/128G
128GB 2.5″ SATA SSD (complete bundle)
$ 405.00
SVP100S2B/256G
256GB 2.5″ SATA SSD (complete bundle)
$ 900.00
SVP100S2B/512G
512GB 2.5″ SATA SSD (complete bundle)
$ 1,900.00