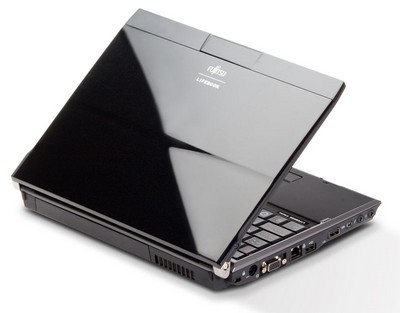 In addition to the new A6220, Fujitsu offers in the US the new Lifebook P8020 that is the successor of the P8010. The LifeBook P8020 is a Centrino 2-based ultra portable laptop weiging 2.9 pounds.
Powered by Core 2 Duo SU9400 Ulta Low Voltage 1.4GHz processor, the Lifebook P8020 features up to 4GB of DDR3 RAM, integrated Intel GMA 4500 MHD video graphics, a 12.1-inch LCD display, up to 320GB hard drive, Dual layer DVD multi burner, and a 1.3 Megapixel camera. 64GB ans 128GB SSD options are also available.
P8020 offers also WiFi 802.11a/b/g/n, Bluetooth 2.1, SD card slot,Fingerprint Sensor with TruePoint Technology and Gesture-enabled touchpad that lets users control many functions through simple finger movements for an enhanced interactive.
The price of Lifebook P8020 starts at $1,799.