Toshiba offers 3 new laptops of the Qosmio F45-AV series, which are based on the Intel Santa Rosa platform, the Qosmio F45-AV410, Qosmio F45-AV411 and Qosmio-AV413.
All of them are powered by Intel Core 2 Duo 1.66GHz processor, 2GB of RAM (max 4GB), integrated Intel Graphics Media Accelerator X3100. They have a DVD Super Multi drive, WiFi 802.11 a/g/n, a 15.4-inch LCD display, fingerrpint reader and integrated webcam. Another feature of the new F45 AV line-up is two built-in Harman Kardon stereo speakers with subwoofer.
More details can be found after the jump.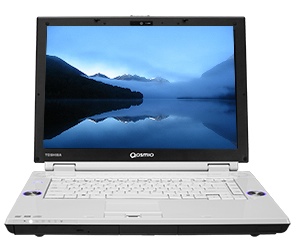 Qosmio F45-AV410 Unique Specifications ($1,299.99)
— Genuine Windows Vista Home Premium (32-bit version)
— Intel(R) Core(TM) 2 Duo Processor T5450
— 1.66 GHz, 2MB L2, 667MHz FSB with 64-bit
— 2048MB PC2-5300 DDR2 SDRAM memory
— Maximum capacity 4096MB
— 1024MB Intel(R) Turbo Memory
— 200GB (5400 RPM) Serial-ATA hard disk drive
— DVD SuperMulti (+/-R double layer) with Labelflash drive
supporting 11 formats
— 15.4-inch diagonal widescreen TruBrite(R) display
— 1280×800 native resolution (WXGA)
— Mobile Intel(R) Graphics Media Accelerator X3100 with 8MB-256MB
dynamically allocated shared graphics memory
— Two built-in Harman Kardon(R) stereo speakers with subwoofer
— Dolby Home Theater
— Intel(R) Wireless WiFi Link 4965AGN (802.11a/g/n)
— Embedded Webcam and microphone
— Fingerprint reader
Qosmio F45-AV411 Unique Specifications ($1,349.99)
— Genuine Windows Vista(TM) Ultimate (32-bit version)
— Intel(R) Core(TM) 2 Duo Processor T5450
— 1.66 GHz, 2MB L2, 667MHz FSB with 64-bit
— 2048MB PC2-5300 DDR2 SDRAM memory
— Maximum capacity 4096MB
— 1024MB Intel(R) Turbo Memory
— 200GB (5400 RPM) Serial-ATA hard disk drive
— DVD SuperMulti (+/- R double layer) with Labelflash drive
supporting 11 formats
— 15.4-inch diagonal widescreen TruBrite display
— 1280×800 native resolution (WXGA)
— Mobile Intel(R) Graphics Media Accelerator X3100 with 8MB-256MB
dynamically allocated shared graphics(9) memory
— Two built-in Harman Kardon(R) stereo speakers with subwoofer
— Dolby Home Theater
— Integrated Intel(R) Wireless WiFi Link 4965AGN (802.11a/g/n)
— Embedded Webcam and microphone
— Fingerprint reader
Qosmio F45-AV413 Unique Specifications ($1309.09)
— Genuine Windows Vista(TM) Ultimate (32-bit version)
— Intel(R) Core(TM) 2 Duo Processor T5450
— 1.66 GHz, 2MB L2, 667MHz FSB with 64-bit
— 2048MB PC2-5300 DDR2 SDRAM memory
— Maximum capacity 4096MB
— 1024MB Intel(R) Turbo Memory
— 240GB (5400 RPM) using two Serial-ATA hard disk drive
— Primary 120GB + Secondary 120GB
— DVD SuperMulti (+/- R double layer) with Labelflash drive
supporting 11 formats
— 15.4-inch diagonal widescreen TruBrite display
— 1280×800 native resolution (WXGA)
— Mobile Intel(R) Graphics Media Accelerator X3100 with 8MB-256MB
dynamically allocated shared graphics memory
— Two built-in Harman Kardon(R) stereo speakers with subwoofer
— Dolby Home Theater
— Intel(R) Wireless WiFi Link 4965AGN (802.11a/g/n)
— Embedded Webcam and microphone
— Fingerprint reader