Motion Computing presents the Motion LE1700WT TabletPC. The Motion LE1700WT  is powered by a Intel Core 2 Duo 1.5GHz processor (or you can get the Core Solo version), up to 4GB of RAM, 30GB or 60GB hard drive, and has WiFi, and Bluetooth, a 12.1-inch LCD touchscreen. supports 3G, EV-DO Rev. A, HSDPA connectivity and comes with the WriteTouch technology.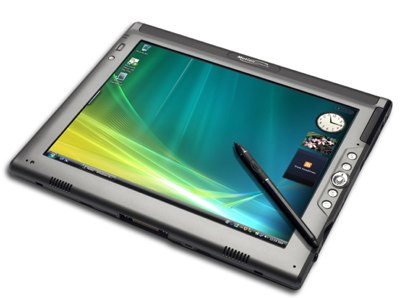 The Motion Computing LE1700WT runs the Windows Vista Business or the Windows XP Tablet PC Edition 2005.
WriteTouch from Motion Computing is a dual-mode display which allows the ease and convenient use of capacitive finger touch and active digitizer pen and inking capabilities combined in a single tablet PC. With WriteTouch, you no longer have to decide between a touch screen and an active digitizer, you can have both. Use the digitizer pen for signature captures, extensive handwriting, notes, and ink-to-text conversion. Use your fingertip to drag and drop with ease, take advantage of Windows Vista flick gestures and quickly and easily navigate the web, forms-based and button-driven applications, and your system applications.