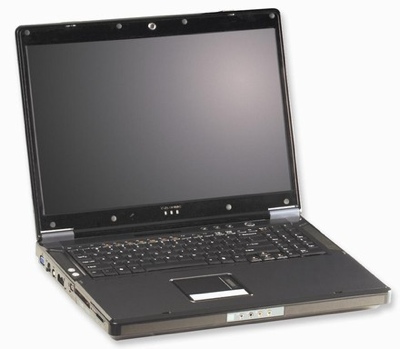 This is the Clevo D900C laptop from Tawian, which may be the World's Fastest Notebook PC. The Clevo D900C is powered by an Intel Core 2 Duo or Extreme X6800 at 1.86GHz, 2.13GHz, 2.4GHz, 2.67GHz, 2.93GHz clock speed, up to 4GB of RAM, nVIDIA GeForce Go 7950 GTX w/512MB (each) in SLi graphics and up to 3 2.5-inch hard drives.
The Clevo D900C has also a 17-inch LCD screen with a resolution of 1680 x 1050 or 1920 x 1200, optional 8x DVD Super Multi-Drive Burner, WiFi, Bluetooth, integrated TV Tuner, a 1.3 Megapixel webcam, and a 7-in-1 Card Reader (MS/MS Pro/MS Pro Dup/SD/SD Mini/MMC).
The Clevo D900C runs on the Windows Vista Home Premium OS.
According to our contact at PowerNotebooks.com, the Clevo D900c is going to be sold by Sager as the NP9260 with a price tag of around $2,700. Availability should be in the late April to early May time frame. Boutique gaming manufacturer Pro-Star has confirmed they will also sell the D900c as the Pro-Star 9191D and it is highly likely Alienware and other manufacturers will take the D900c and rebadge it as their own.