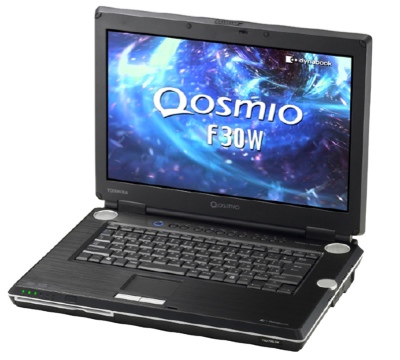 Toshiba offers the Qosmio F30/87A AV Laptop PC which features a TV Tuner. The Qosmio F30/87A  is powered by an Intel Core 2 Duo 1.66GHz, 1GB of DDR2 RAM(max 2GB), NVIDIA GeForce Go 7300 graphics and a 160GB hard drive.
The F30 has a 15.4-inch LCD didplay with a resolution of 1,280 x 800, a DVD Super Multi burner supporting DVD+R, DVD-R, DVD-RAM and CDRWs. Of course, it has WiFi IEEE802.11 a/b/g and a SD card slot.
The Toshiba Qosmio F30/87A  runs the Windows Vista Home Premium and has Microsoft Office 2007.
There is also F30/85A model which is powered by an Intel Celeron M 440 1.86 GHz processor.
They will be available in 29/1 and you can order from Toshiba Direct.