Logitech brings to its Mac lineup a new Bluetooth keyboard with Easy-Switch technology for Mac, iPad and iPhone.  The new keyboard is a Mac-friendly version of the Bluetooth Illuminated Keyboard K810, featuring Mac layout and keys such as Command, Brightness and Mission Control. Logitech also gives it a sleek aluminum design to match Apple style.

As its name tells, the Bluetooth Easy-Switch Keyboard features the unique Easy-Switch technology that it can pair with up to three devices and switch between them easily and instantly with a simple press of a button. For example, you can easily go from typing an e-mail on your Mac to taking notes on your iPad to replying to a text on your iPhone with one touch. The keyboard has laser-etched backlit keys with auto-adjusting illumination to suite the light condition in the room. There is also a motion sensor that detects hand proximity to turn the backlight on or off.
The compact, sleek Bluetooth Easy-Switch Keyboard sports Logitech's PerfectStroke key system for a silent, natural typing experience, and Incurve keys for comfortable typing. It can be recharged via USB. It is priced at $99.99.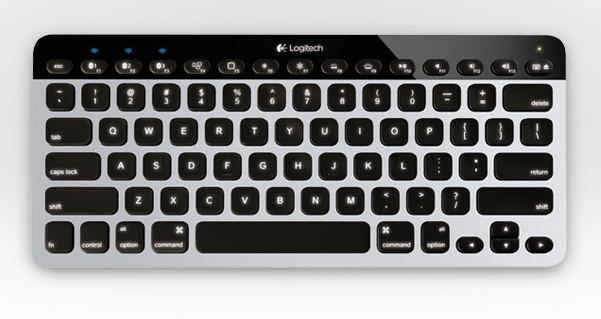 [Logitech 1|2]