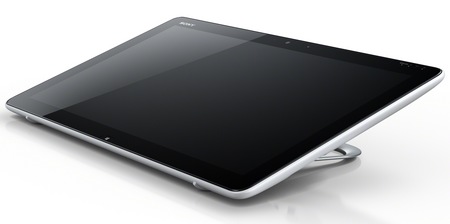 Sony will release in late-October the VAIO Tap 20 Family Touch PC designed for entertainment. The battery-powered tabletop PC fits right into any living space – from bedrooms and kids' play areas to the kitchen or garden. It comes with an adjustable stand for comfortable computing in any position: lay-flat, tilting or desktop-style, like Lenovo's IdeaCenter A720. Its built-in battery allows portability around the home.

The VAIO Tap 20 is powered by Intel's Core i7-3517U, Core i5-3317U or Core i3-3217U processor, up to 8GB of RAM and integrated Intel HD Graphics 4000. It gets 750GB or 1TB hard drive for storage. It has a 20-inch 1600×900 touchscreen with 10-point multitouch. To deliver the best entertainment experience, the tabletop VAIO sports Mobile BRAVIA Engine 2 to ensure crisp, natural movie viewing with fine details; and 2.1-channel speakers with S-Force Front Surround 3D and ClearAudio+ to deliver vibrant, room-filling soundtrack.

The VAIO TAP supports Bluetooth 4.0 and WiFi 802.11b/g/n connecitivity as well as NFC for one-touch pairing and file sharing. It has one USB 3.0 port, one USB 3.0 with charge port, a MS/SD card slot and Ethernet LAN port. You can also find a 1.31 Megapixel HD webcam powered by Exmor for PC. It runs Windows 8/Pro to fully utilize the touchscreen and comes pre-loaded with multi-user apps including Family Paint and Fingertapps Organizer.
[Sony]