Olympus introduces the new STYLUS XZ-2 iHS flagship high-performance compact point-and-shoot digital camera which is the successor to the XZ-1. The new lightweight camera, with iHS technology, sports a newly developed 12.0 Megapixel, 1/1.7″ high-sensitivity back-lit CMOS sensor and SLR-quality TruePic VI image processor that combined to deliver high quality images with low noise, enhanced low-light performance and fast auto focus speed. The Super Resolution Technology can extend the zoom range to 8x with minimal image degradation.
The XZ-2 features a iZUIK DIGITAL f1.8-2.5 large-diameter lens with 4x optical zoom range and 24mm wide angle. With f1.8 aperture, the lens allows fast shutter speeds for sharp low-light images, and lets users to take portraits that highlight the subject by defocusing the background. Complementing the speed of the f1.8 lens is the camera's low-light mode that automatically adjusts the ISO sensitivity up to ISO 12,800 to capture sharp and clear photos in low-light condition. There are also AF illuminator and pop-up flash to brighten low-lit subjects, reduce red-eye and fill in dark areas.
The STYLUS XZ-2 features Dual IS thatcombines sensor-shift image stabilization with high ISO sensitivity to reduce camera shake and subject, Backlight HDR function that captures multiple images with a single shot at different exposures and automatically merges them into one image, high-speed continuous shooting at 5fps. It also comes with 11 Art Filters and 5 Art effects for users to add creative touch to their photos. The camera is capable of 1080p Full HD video recording and includes Multi-motion Movie IS image stabilization that corrects camera shake that occurs when shooting on the move to deliver more stable, higher-quality movies. The Live Guide lets you to preview effects you adjust them – before the image is even captured, and the Live Control allows you to see the image and the controls all at once.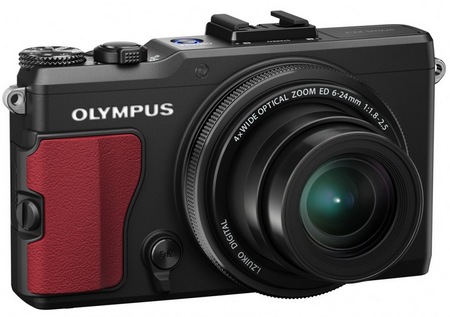 Olympus' new flagship includes the world's first hybrid control ring that built around the lens. The ring allows you to easily assign function settings to their preferences as well as switch between analog and digital operation of the ring. The digital operation provides a solid click on controls, whereas the analog operation offers a smooth, gliding feeling. You place the Fn2 lever next to the lens downward and use the ring as a focus or a zoom ring in analog mode; or you can place it at an angle and switch the ring to digital control for adjusting exposure-related settings quickly and easily.
The Olympus XZ-2 has a 3-inch tilting touchscreen display that allows users to touch the screen to focus the subject and release the shutter. It also provides HDMI output for sharing images and videos taken easily on a HDTV,and an accessory port for compatibility with a growing range of Micro Four Thirds accessories. Using the new FlashAir media cards, you can connect the camera with smartphone running Olympus Image Share app to share images immediately on social networks.
The Olympus STYLUS XZ-2 will be released in November for $599.99. Its grip is interchangeable and Olympus will release red, beige and purple alternative grips.