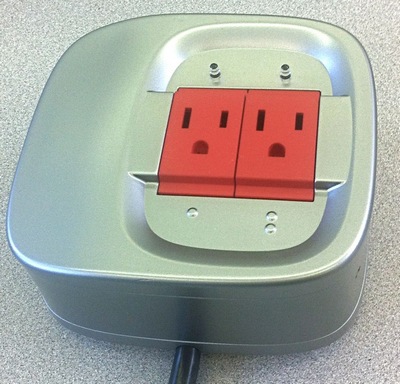 A company called Visible Energy introduces the Monostrip WiFi-enabled Smart Outle adapter designed to help users manage the energy use of home and office appliances. The Monostrip can keep track of energy use of the device plugged into the outlet and allows users to remote control the sockets for simple home automation.


The WiFi-enabled Monostrip offers two power outlets and connects to home network and Internet wirelessly. Using the Energy UFO iPhone app or the Web Portal, you can monitor electricity consumption and its cost, remote control the sockets and even program schedules of when to turn on or off the connected device so as to save electricity. You can control both sockets using the iPhone app or web portal.
The Monostrip Smart Outlet adapter comes in two version – one for North American standard of 110-120 volts at a frequency of 60 Hz, with Type B plugs (NEMA 5-15), and one for the European standard of 250 V at frequency of 50 Hz with Type F plugs CEE 7/4 (German "Schuko" 16 A/250 V earthed). The price is $49.00.