Along with the Pro Cinema 6020UB and Home Cinema 5020UB/5020UBe, Epson also introduce the lower-end PowerLite Home Cinema 3020 and 3020e 1080p 3D home theater projectors. Like their brothers, the 3020 and 3020e also deliver 1080p Full HD resolution with Bright 3D 480Hz drive system to minimize blackout time of 3D glassess and enhance brightness of 3D images, yet they have a slightly lower brightness at 2300 lumens and lower contrast ratio at 40,000:1.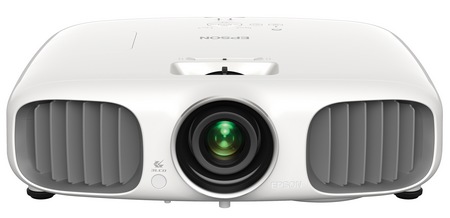 The Home Cinema 3020 and 3020e, based on 3LCD technology, feature 2D-to-3D conversion to transform 2D movies to 3D and come with two pairs of 3D glasses. Super Resolution technology and FineFrame Technology and THX certification are missing, but you can still find the Split Screen feature for watching two pictures at once. They are equipped with 230W E-TORL lamp with 5000 hours of lamp life and two built-in 10W speakers.
The 3020e is WirelessHD-enabled, featuring a wireless transmiter to stram Full HD signal wirelessly to up to five devices with HDMI. Both projectors have HDMI, component, composite, VGA inputs and USB port. Epson will release the Home Cinema 3020 and 3020e in October for about $2000.