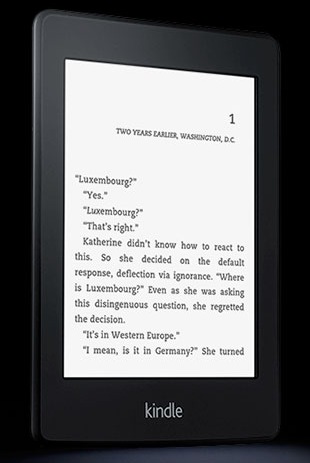 Other than the new Kindle Fire HD tablets with IPS touchscreen, Amazon also adds to the e-ink-based Kindle line the fifth generation Kindle reader. Called Kindle Paperwhite, Amazon said it is the most advanced e-reader even built. The reader features a new 6-inch 212 ppi Paperwhite display with 62% more pixels and 25% more contrast for sharper and clearer text. The new display also uses a patented built-in front light technology, instead of backlit, that guides light underneath an anti-glare layer and down toward the display so that the light never shines directly towards your eyes, allowing users to read comfortably in all lighting conditions without eye strain. The screen also integrates capacitive touch technology for a thinner form factor and better touch accuracy.


As slim as a pencil, the Kindle Paperwhite features built-in WiFi connectivity for users to shop and download books wirelessly. It includes hand-tuned fonts for maximum readability and offers 6 font styles and 8 adjustable sizes. The 2GB internal storage is enough for storing up to 1100 books, and the internal battery can provide up to 8 weeks of battery life, even with the light on at all times. The new e-book reader also include X-Ray for Books for readeers to explore the 'Bones of a Book', and Whispersync for Voice for syncing Kindle library including audiobooks from Audible. Amazon also provides free cloud storage for all Amazon content.
The Amazon Kindle Paperwhite is priced at $119 and will be shipped on 1 October. There is also the $179 Paperwhite Wi-Fi+3G that allows users to download and read books anytime, anywhere in over 100 countries around the world with free 3G connection. Amazon will also release an updated version of original Kindle that offers new improved fonts, 15% faster page turns for $69.