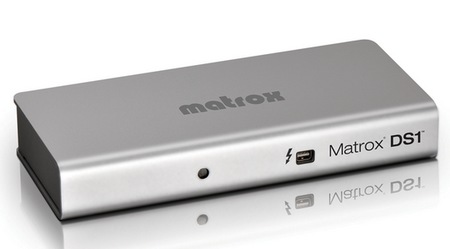 Super slim notebooks are really convenient for on-the-go users thanks to their portability. But considering connectivity, you may just want to get a few more ports. Matrox has launched the DS1, a docking station for super slim notebooks such as Macbook Air and Ultrabook, which allows users to add multiple peripherals easily. Of course, you can use it with any Thunderbolt-equipped notebooks as well.
The DS1 connects to your notebook with a single Thunderbolt high-speed cable, and it provides a DVI video output for adding a secondary/larger display, a Gigabit Ehternet LAN port, one SuperSpeed USB 3.0 port, two USB 2.0 ports, a microphone input, and a speaker/headphone output. Using the docking station, notebook users can connect to peripherals instantly and easily, without re-connecting each of them one by one.
The Matrox DS1 Thunderbolt docking station for slim notebooks will be released in September for $249.