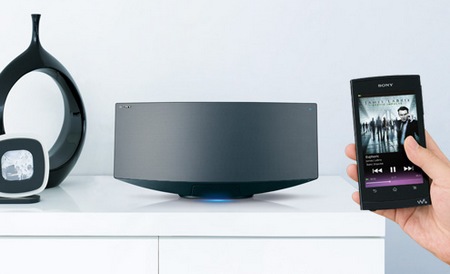 While the CMT-V75BTiP and CMT-V50iP are designed for iPhone, iPod and iPad, Sony's new CMT-V70B and CMT-V50 are HiFi systems for the company's Walkman music players featuring WM-Port. The slim music systems can play music from docked Walkman player supporting MP3, WMA, ATRA, PCM, AAC/HE-AAC music files. They deliver 20Wx 2 output with Magnetic Fluid technology for clear sound and S-Master digital amplifier for high quality sound output.

The CMT-V70B and CMT-V50 also come with built-in CD player that plays Audio CD, CD-R/RW and MP3. Users can also rip audio CD to their Walkman in 128kbps format. The former adds Bluetooth connectivity with A2DP and AVRCP profiles, allowing users to stream music wirelessly from Bluetooth-enabled devices, including iPhone, iPad and Android smartphones/tablets. There is also built-in FM/AM radio.
Sony's CMT-V70B and CMT-V50 both have slim, sleek design, with the V70B comes in gold and silver colors, and the V50 in black, silver and pink. They will be available for 35,000 Yen and 30,000 Yen, respectively.