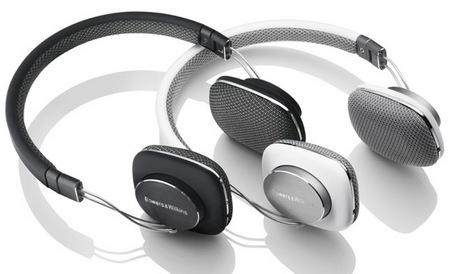 Following the on-ear P5 and in-ear C5 headphones, Bowers & Wilkins introduces its new on-ear P3 mobile HiFi headphones with a rugged yet lightweight construction. Equipped with a dynamic neodymium magnets drive units, the P3 delivers accurate and natural sound. Driver terminals have been positioned to ensure uniform airflow, resulting in more linear movement and less distortion.

B&W's P3 is built from aluminum and durable rubber. Its earpads is covered with custom-made ultra-light acoustic fabric, forming a seal around the edge for better bass and noise isolation while delivering comfortable listening experience. The P3 has a slimline design and is foldable that slips easily into jacket poacket, and it comes with a hard carry case.
The Bowers & Wilkins P3 headphones is iPhone friendly. It comes with a choice of cable – one with remote/microphone attachment compatible with iPhone and the other that works with all mobile phones and music players. Compare the the P5, the P3 is more affordable at $199.99. It comes in black and white finishes.