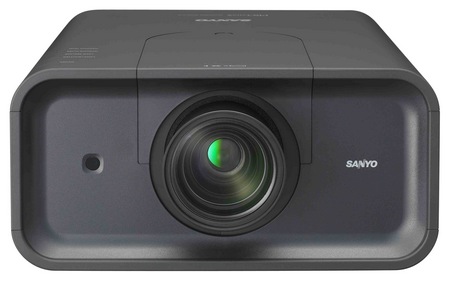 Sanyo introduces in the US market its new PLC-HP7000L Full HD projector. Powered by Sanyo's QuaDrive engine, the new projector achieve a brightness of 7000 lumens with just a single high watt lamp. It features 1920×1080 resolution and full 10-bit video processing.
The PLC-HP7000L features Color Control Device that is able to manage yellow, offering color space that is 20% wider than 3LCD. With the company's Active Maintenance Filter (AMF), the prjector offers very high level of reliability with 10,000 hours active use time without maintenance, reducing maintenance costs significantly. It provides Picture in Picture and Picture By Picture functions.
Ease and speed of setup are facilitated through powered zoom and focus controls, in addition to corner keystone correction, which is a combination of vertical and horizontal keystone correction. The PLC-HP7000L provides HDMI input. Accommodating a wide range of venue and display requirements, operators can choose from a total of six optional lenses, and a 360 degree vertical lens setting affording users tremendous flexibility and the ability to be creative when determining projector location.
Sanyo will release the PLC-HP7000L projector in October for $19,995.
[Sanyo]