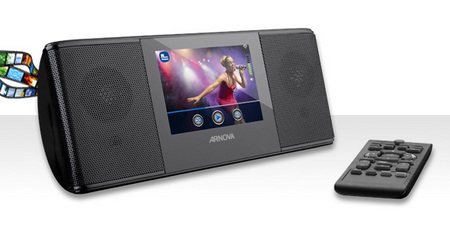 Archos introduces the ARNOVA web radio and TV, a tabletop entertainment device. With wireless WiFi and wiered Ethernet connection, the ARNOVA offers access to over 12,000 internet radio stations and over 1500 web TV channels and podcasts. It is equipped with standard FM radio receivers and offers alarm clock function with multiple alarms.

The ARNOVA comes with a 3.5-inch touchscreen and built-in stereo speakers. It supports AVI, MPEG-4, FLV, MP3, WMA, WAV, AAC, FLAC ans well as image files. Of course, the ARNOVA can also stream music from your PC over WiFi. There is also a line-in jack and a SD card slot for music playback from external source.
Pricing and availability will be announced later.