Beats by Dr. Dre, Monster, NBA player LeBron James have teamed up to develop the new Powerbeats stylish, sports headphones. The in-ear headphones comes in black, red and white. It has adjustable/bendable ear hook with a flexible arm that runs around the outside of the ear to keep the headphones securely while you're working out or playing team sports.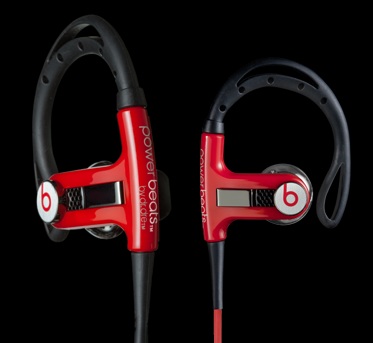 The Powerbeats sports a "new dual driver design that features two unique speakers, with a built-in subwoofer that pumps out massive bass, and a midrange tweeter that reproduces ultra smooth vocals and clear, crisp highs." It's specially designed non-noise occluding eartips let you enjoy music while still being aware of peripheral sounds. The headphones also features ControlTalk with built-in microphone for hands-free calls and playback control of iPod, iPhonem iPad.
Beats by Dr. Dre Powerbeats comes with 3 pairs of standard Monster designed ear-tips and a carrying case. It is priced at $169.95.