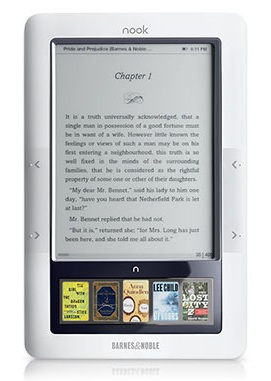 B&N announced the new NOOK WiFi, the latest addition to the NOOK by Barnes & Noble family. The new NOOK WiFi is almost identical to the original NOOK. It provides WiFi connectivity but lacks 3G.
Like the original NOOK, the new WiFi-only NOOK is an e-book reader based on Android. It features a 6-inch e-ink disaplay, a 3.5-inch color touchscreen below the e-ink, 2GB internal memory and a microSD card slot.
The new NOOK WiFi is priced at $149. Barnes & Noble also announced lower price for NOOK 3G+WiFi at $199.