Sony presents at the CEDIA EXPO 2008 the BDV-IT1000ES and BDV-IS1000 blu-ray home theater systems. Both of them are single-disc 5.1 channel surround Blu-ray Disc systems. They can deliver 1080p full HD performance.
Both systems comes with integrated Sony's S-AIR technology for easy wireless multi-room audio setup. They supports BD-Live that allows users to connect to the Internet for BD-Live features and firmware update.
Both Blu-ray systems feature Sony's new Precision Drive HD, which helps to detect and correct wobbling discs from three directions, stabilizing playback of bent or scratched Blu-ray Discs and DVDs.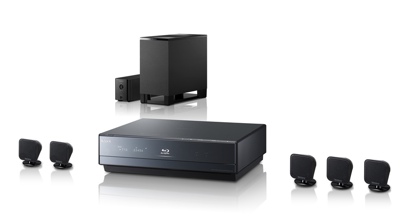 Sony BDV-IT1000ES a 700W (100W per channel x 7), and a 200W subwoofer while the BDV-IS1000 is a micro home-theater-in-a-box system featuring five tiny speakers that are approximately the size of a golf ball.
They have also xross media bar XMB menu, BRAVIA Sync, Digital Cinema Auto Calibration and Digital Media Port. There are two 1080p HDMI inputs on both system.
Sony BDV-IT1000ES will be available in October for $1,999 while the BDV-IS1000 ships in October for about $1,000.