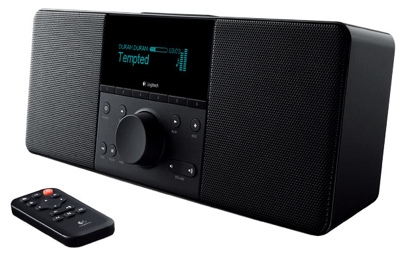 Logitech launches its Squeezebox Boom compact all-in-one network music player. The new Squeezebox Boom features 30-watt digital amplifier and speakers, a 3-inch high-power, long-throw woofers, WiFi 802.11g wireless connectivity, the Stereo XL technology and FD display.
The device has an Ethernet LAN port and a 3.5mm stereo jack. It supports almost any music files, including MP3, AAC, WMA, Ogg, FLAC, Apple lossless, WMA lossless, WAV, and AIFF. It comes with a remote control.
The Logitech Squeezebox Boom is priced at USD 299.99.