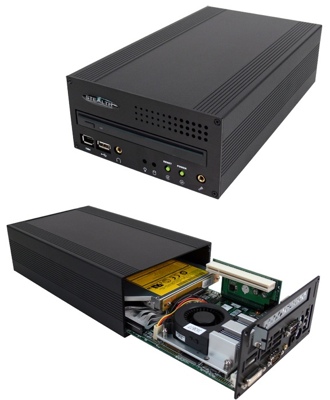 This is a rugged mini PC, LPC-450PCI from Stealth Computer. Though a little bigger than Asus' NOVA, Stealth LPC-450PCI provides you with a PCI card slot. You can find an Intel Core 2 Duo processor, a 160GB hard drive or optional SSD, optiona DVD burner. There are also FireWire port, Ethernet and USB ports.
Press Release
Toronto, Canada ~ February 25, 2008 – Stealth Computer Corporation, a market leader in the industrial computer and peripherals market has released a new small form factor mini PC with built-in PCI expansion slot capability. The Stealth LPC-450PCI Little PC utilizes Intel's latest Core 2 Duo processor technology delivering the ultimate in Mini PC performance. The robust anodized aluminum chassis measures just over 2 inches tall having the overall footprint about the size of a hard cover novel, measuring in at 10″ x 5.8″ x 2.8″ and weighing approximately 10 lbs or 4.5kg's.

One of the unique attributes the LPC-450PCI Mini PC possesses is the open and available PCI card slot. "Customers can simply add specialized I/O, video, data acquisition and communications cards, something that cannot be achieved without resorting to larger clunky desk top computers" remarks Stealth's President & CEO, Ed Boutilier.

The LPC-450PCI small form PC features a multitude of I/O connectivity built into its impressively small design such as; LAN, 2-Serial, 3-USB, FireWire, Video, Audio, PS/2 Mouse & Keyboard ports. The LPC-450PCI has a built-in 2.5″ high-shock hard drive with up to 160GB's of storage space for archived data.

For applications that require extra high shock, vibration and wide temperature ranges, optional SSD or Solid State Drive options are available. A slim DVD/CD-RW optical drive comes standard with an optional DVD burner available. Systems are compatible with Microsoft Vista/XP, Linux etc and can be custom configured to meet the exact needs of the OEM or end user. Stealth's LittlePC products serve a demanding market where powerful solutions are being deployed in space-challenged applications around the world. Digital Signs, Kiosks, Embedded Control, Medial Carts, Thin-Clients, POS & Human/Machine Interface are just a few of the applications that are ideal for Stealth's LittlePC products.
[Stealth]