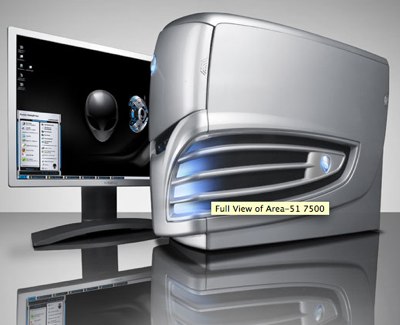 Alienware offers the Area-51 7500 desktop PC. The Area-51 7500 is powered by an Intel Core 2 Duo processor or Intel Core 2 Extreme processor with Dual Core Technology, 1GB RAM(max 4GB), NVIDIA GeForce 7950 GT or Dual NVIDIA GeForce 8800 GTX graphics, 250GB to 1TB hard drive capacity.
The Area-51 7500 comes with a Dual Layer DVD±R/W Drive or a Blu-Ray drive, and you may also want to get the 28-in-1 digital media reader/writer. It runs the Windows Vista OS.
The starting price for this monster is $2199.