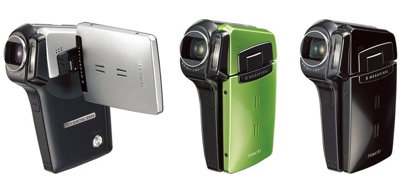 Sanyo announced its latest Xacti video camcorder, the Xacti DMX-CG65 which is the improved version of the CG65 camcorder. The new DMX-CG65 supports MPEG-4AVC/H.264 movies.
The Sanyo Xacti DMX-CG65 has a 6 Megapixel CCD image sensor, 5x optical zoom, a 2.5-inch LCD screen. The DMX-CG65 has 18MB internal memory and supports SDHC memory cards up to 8GB.
Xacti DMX-CG65 is able to record videos TV-SHQ/640×480 quality at 30fps. With an 1GB SD card, you can store up to 80 minutes of MPEG4 video.
Sanyo Xacti DMX-CG65 measures 67.7 (W) x 100.3 (H) x 34.5(D) mm and weights 150g. It will be available in late April.