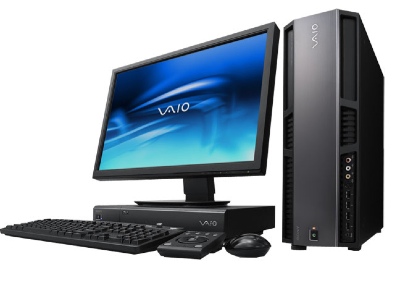 Sony launched the VAIO VGC-RM1 desktop computer which is a HD Video Editing System. The VAIO VGC-RM1 is powered by an Intel Core 2 Duo E6600 2.4GHz processor, 2GB RAM(max3GB), 1TB hard drives (250GB x 4) and NVIDIA GeForce 7600GT Graphics.
The VGC-RM1 will feature a Blu-Ray burner supporting not only BD-R, BD-RE, BD-R DL but also DVD+/-R and DVD-RAM. There is also a card reader supporting Memory Stick, Memory Stick PRO, Memory Stick Duo, Compact Flash Type II, Smart Media, SD/ MultiMediaCard , xD Picture Card and PCMCIA.
The Sony VAIO VGC-RM1 has Bluetooth, 12 USB2.0 ports, 3 iLink/Firewire ports, 1000Base-T Ethernet. It runs on the Windows Vista Business OS.
Product Description
The VAIOVGC-RM1 HD video editing system is a Blu-ray Disc enabled high definition video authoring PC with a unique twin-unit form factor and USB Jog Dial device for precise control while shuttling video. The twin-unit form factor consists of two separate units. The desktop unit provides easy access to your essential everyday computing needs while the deskside unit is home to less frequently accessed components, such as the motherboard and hard drives. With 1 terabyte HDD (Hard Disk Drive) storage, 2GB DDR2 667 RAM and an NVIDIA GeForce 7600GT graphics, the VAIO RM has massive amounts of storage and is stacked with HD video authoring muscle.

Feature List
Twin-Unit Form Factor
Designed for HD video editors who demand flexibility and crave a cool, quiet working environment, the VAIO RM HD (high definition) video editing system consists of two separate units. The desktop unit is slim and black with an attractive brushed aluminum form factor. The larger deskside unit also features a brushed aluminum panel as well as an air-vent design for improved airflow. Both units can be placed horizontally and vertically.

1 Terabyte HDD Storage
Equipped with a staggering 1 terabyte HDD (Hard Disk Drive) storage, the RM1 HD video editing system is both your PC and A/V recording server. With 4 X 250GB4 SATA hard drives configured in 2 RAID 0 volumes, you can store a colossal amount of high definition camcorder video, music and photos without fear of space becoming an issue.

Enhanced Performance with Blu-Ray Disc\
To burn a truly exceptional HD video, you need the highest possible media capacity to deliver the highest definition picture and sound quality. With the Blu-ray Disc-enabled VAIO RM PC, you can record an outstanding 50GB of high-definition video on a single Blu-ray Disc.

Powerful Processor
The VAIO VGC-RM1 editing system features an Intel Core 2 Duo processor for exceptional performance while undertaking CPU-intensive tasks such as high definition video editing, sound mixing and audio dubbing. All this can be done with outstanding energy efficiency, which is great for multi-tasking videophiles who want to edit an HD movie while 50GB of video burns to a single BD-R Dual Layer Recordable Disc in the background.