Kingston introduces the next generation Wi-Drive portable wireless storage device and gives it a new name. Called MobileLite Wireless, the device combines mobile USB and card reader with a portable charger. Instead of built-in hard drive like the Wi-Drive, the new model provides USB port and SD/SDHC/SDXC card slot for more flexibility.
The MobileLite is able to stream movies, music, photos and documents from USB flash drives and SD/SDHC/SDXC memory cards to their iOS and Android mobile devices. Users can simply plug in their USB flash drive to access content stored on their mobile devices, and they can share photos with friends and family easy and quick by removing the memory card from a camera and plugging it directly into the MobileLite. A card adapter is included for users to share and access content on microSD cards. The wireless reader can share and stream content with up to three users at the same time.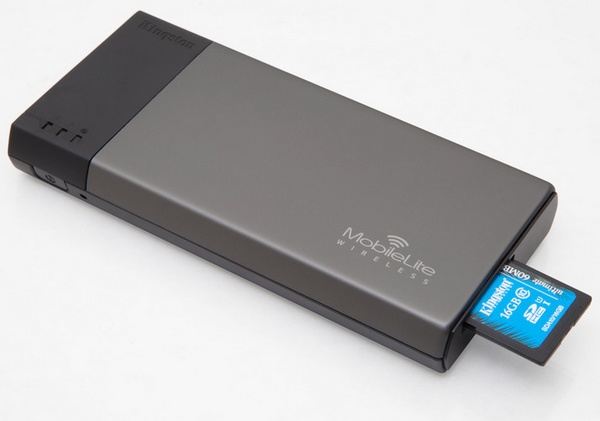 Not just a mobile reader, the MobileLite Wireless also doubles as a portable battery charger that makes it an ideal companion for your smartphones or tablets. The internal rechargeable battery is able to offer up to five hours of continuous use as a wireless reader, and is able to charge your mobile devices to keep them alive. You can get one for $69.99.