As HMV UK going bankcrupt, it is fair to say that this is the age of digital music. However, there are still music lovers who want to keep their CD collection along with their digital music library. To bridge both worlds, Yamaha's new CD-N500 high-end network CD player may be a good choice, combining a CD player and network audio player in a single unit.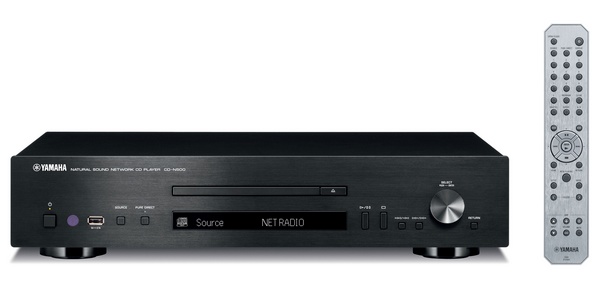 Yamaha's new player works like a portal for users to access music from CD, PCs, smartphones, tablets and even Internet radio. To deliver high quality CD playback, Yamaha joins the CD mechanism and the chassis and adds steel vibration dampers on both the top cover and the bottom of the chassis to reduce vibration. Audio CD-optimized optical pickup is also used for natural, high purity sound.
As a network CD player, the CD-N500 can connect to your home network via Ethernet and stream digital music from you PC or NAS system, and from Internet radio stations. The company's Network Player Controller app for iOS, Android and Kindle also made wireless music streaming and remote control from smartphones and tablets possible. It can also stream from DLNA-compatible devices. The player also has a USB port on the front panel for playing music from iPad, iPhone, iPod or USB storage devices.
Yamaha's CD-N500 is equipped with 192KHz/32-bit Burr-Brown high precision DAC to deliver high-quality sound, and it supports FLAC 192kHz/24-bit and Apple Lossless formats. It also features Gapless Playback to eliminate pauses usually heard when continuous music is transmitted from a network source. There is Pure Direct mode for higher quality audio output. The player is available now for $799.95.