Other than smuggling iPhones from Hong Kong, people in China have found ways to build their own, using old iPhone parts collected from electronic waste and broken iPhones, and replacement parts. It is also said that some parts actually come from Hon Hai/Foxconn, the manufacturer of the iPhone. While a brand-new iPhone 4 is available from Apple for RMB3088 (US$496) without contract, it costs just RMB1350 (US$217) to build an iPhone 4 using these old parts and components.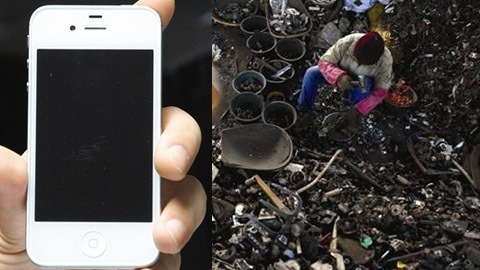 As reported by ShenZhen Wanbao, 80% of old, broken iPhones are sent to town called Gui Yu in Shantou city. Some of them will be disassembled for extracting precious metal, like other electronic waste; and some will be sold to shops in Huqiang North, a district in Shenzhen where you can find the biggest electronic market in China. Shops in the area will then use these usable parts and China-made replacement parts to build iPhone 4 and sell them as refurbished.
Chinese guy, Xie, has built his own iPhone 4. He bought an original logic board from Huaqiang North for RMB750, and spent another RMB750 for replacement display, touch panel, buttons, camera, and case, and was able to assemble a working iPhone4. Since the iPhone 4 logic board he got was of Verizon's CDMA model, Xie pay RMB50 to burn his China Telecom number to the phone. For a total of RMB1350 (US$217), he has a self-built iPhone 4 that works just like the original one.
Currently, only iPhone 4 can be rebuilt using these old parts, but we can expect self-built iPhone 4S in near future.