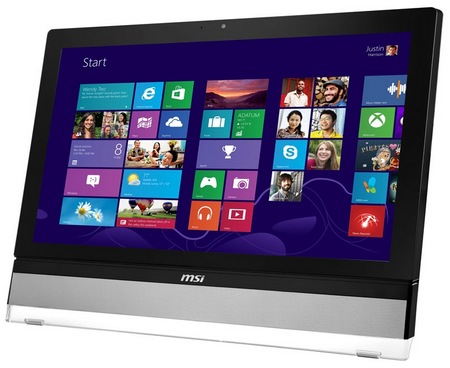 Following the official launch of Windows 8, MSI brings its sleek AE2712 and AE2712G all-in-one PCs running the latest operating system. The 27-inch AE2712 and AE2712G are powered by Intel's Core i3-3220 or Core i5-3470S processor with integrated HD Graphics 2500, and the AE2712G sports the dedicated NVIDIA GeForce GT630M graphics card with 2GB video memory. They comes standard with 4GB of RAM and supports up to 8GB with 2 SO-DIMM slots.


The AE2712/AE2712G has a 27-inch Full HD display with 10-point multitouch to get a full Windows 8 experience. It is equipped with a 3.5-inch 7200RPM 1TB hard drive and a DVD Super Multi drive, with Blu-ray combo available as an option. Other than stanard Ethernet LAN connection, the all-in-one also supports WiFi 802.11b/g/n. Other features include two USB 3.0 ports, 3-in-1 card reader, HDMI input and HDMI output and a 2 Megapixel webcam. You can also find 3Wx2 speakers with THX TruStudio Pro.
The MSI AE2712/AE2712G comes with wireless keyboard and mouse. The Windows 8 AIO comes with a sleek and frameless design, and is wall-mountable with 200x100mm wall mount kit.