Following the 15-inch MacBook Pro with Retina Display, Apple also brings Retina Display to its 13-inch MacBook Pro laptop. The new 13-inch Macbook Pro with Retina gets a 13.3-inch 2560×1600 IPS display with 227ppi and LED-backlit. Using IPS technology, the screen also provides 178-degree viewing angle. According to Apple, this Retina model is 20% thinner and about a pound lighter than the current 13-inch MacBook Pro.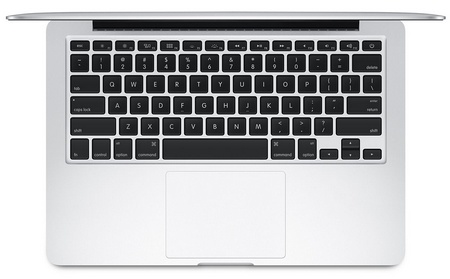 The 13-inch MacBook Pro with Retina Display is powered by Intel's 2.5-inch Core i5 processor with the option to configure to 2.9GHz Core i7, 8GB of RAM and integrated Intel HD Graphics 4000. For faster response and performance, the laptop is equipped with 128GB or 256GB flash storage, with the option to get up to 768GB flash. It also provides Mini DisplayPort output (via Thunderbolt port) and HDMI output.
The 13-inch Retina notebook features a 720p FaceTime HD camera, and supports Bluetooth 4.0 and WiFi 802.11b/g/n wireless technology. It has two Thunderbolt ports, two USB 3.0 ports and a SDXC card slot. Other features include dual microphone, stereo speakers, full-size backlit keyboard, multitouch trackpad and MagSafe2 connector. The built-in 74-watt-hour lithium-polymer battery offers up to 7 hours of wireless web.
The 13-inch MacBook Pro with Retina Display starts at $1699 for 128GB model and $1999 for 256GB model. It comes shipped with Mac OS X Mountain Lion.