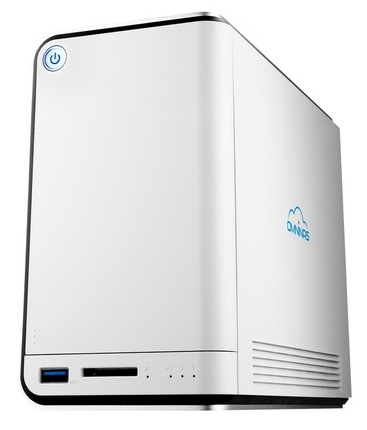 Shuttle, famous for its XPC mini PCs, introduces its first low-energy NAS server, the OMNINAS KD20 designed for small offices, workgroups and home use. The system has two hot-swappable drive bays for 3.5-inch hard drives or SSDs up to 4TB, offering a total of 8TB storage space. Installed drives can be configured to operate in RAID-1 mirroring mode, RAID-0 striping mode or as JBOD. It has an Ethernet LAN port for connecting to your local network.
The KD20 gets a 2.5mm stylish aluminum housing that not only looks good but also provides excellent thermal conductivity, keeping the server cool. The smart cooling engine also includes a 80mm fan that will activate only when the hard disk temperature approaches specific limits. The NAS server has one USB 3.0 port and two USB 2.0 ports and a SD card slot. You can easily share data stored on USB hard drive/flash drive and SD card, and printers over the network. Using the AutoCopy function, the NAS can automatically copy data from USB drives to the NAS. For added data security, you can even use a USB storage device for time-controlled backups of data stored on KD20.
The OMNINAS KD20 is powered by dual-core processor and offers 75MB/s read nad 55MB/s. It can be used as a printer server, iTunes server or a DLNA-compatible media server. BT download function is also included. Shuttle has release the free OMNINAS apps for iOS and Android smartphones and tablets for mobile access to the KD20. It is priced at Euro 129.