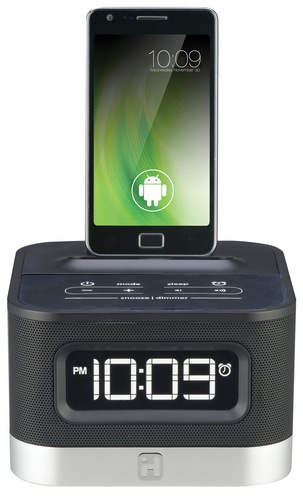 iHome debuts its new SmartDesign line of speakers for Android smartphones. Three products will be released soon, including the iC50, iC3 and iC16.
The iC50 is a space-saving FM radio alarm clock featuring the SmartSlide dock to fit most Android smartphones. It can charge docked phone and can be used with free iHome Sleep app to let you wake and sleep to your favorite tunes. The iC50 is priced at $59.99.
The iC3 is a speaker dock for not only Android smartphones but also Android tablets. It is equipped with Reson8 speaker chambers to deliver clear, deep and powerful sound. The portable speaker dock also does charging. It is priced at $39.99.
The iC16 is a portable alarm clock stereo speaker with USB charging for Android smartphones. Ideal for travellers, the iC16 is compact and light and offers alarm clock and charging functions. It is priced at $59.99 and will be released this Summer.