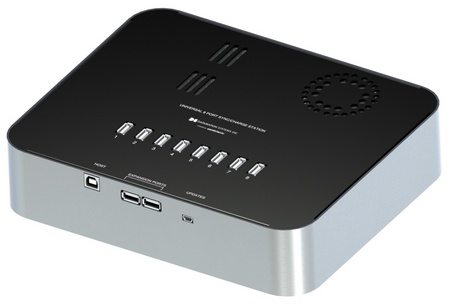 Datamation System is launching its new DS-IP-8-USC, a universal, professional USB charging/sync station. The station offers eight USB ports for charging your USB-powered devices, from iPhone/iPod/iPad, smartphone, tablet, to MP3 players, PMP..etc. With multiple USB ports, the DS-IP-8-USC charges a number of different devices at the same time.
The DS-IP-8-USC does not just charging, it can also connect with computer for syncing. According to Datamation, the device can identify the correct charge profile for each connected device drawing on its library of charging configurations, and the library can be updated in the field as supported configurations are added, making it future-proof.
In addition to the DS-IP-8-USC capable of charge and sync, Datamation will also release the charge-only DS-IP-8-UC hub. The expansion ports allow the charge stations to be daisy-chained for larger arrays.