Roland ships its new R-26 portable audio field recorder, a multi-dimensional recorder that provides up to six simultaneous channels of pro-quality audio recording to SD/SDHC media. The recorder is equipped with two types of built-in stereo mics – omnidirectional and XY stereo microphones to suit any style of audio recording. There are also two XLR/TRS combo inputs with phantom power for connecting external mics or line-level devices.
The Roland R-26 supports up to six channels of simultaneous recording. It has 160×160 touchscreen display for intuitive navigation and a large input level knobs for fine adjustment. The recorder sports Roland's proprietary IARC (Isolated Adaptive Recording Circuit) on the inputs for the built-in mics and as well as the external inputs, for reducing digital noise and achieving very clear sound. It records in WAV, BWF as well as MP3 up to 24-bit/96 kHz, and is able to record both WAV/BWF and MP3 formats simultaneously. The R-26 has USB interface for use as an audio interface or external storage. It supports SD/SDHC up to 32GB.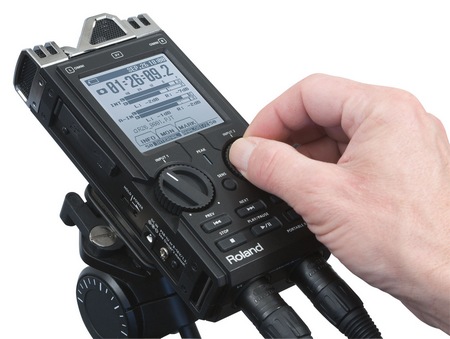 The R-26 comes with built-in on board effects such as a limiter, low-cut filter that helps reduce distortion and noise while recording and includes Pre-record function to ensure that you never miss the beginning of a recording especially for location sound applications such as folio effects and nature recording. There is also voice memo function that lets you add up to 30 seconds of audio to an existing recording; and Loop-Back function, which can be combined with the built-in or external mics for the optimum live video streaming setup (only with Audio Interface function). With the threaded rear-panel mount, the portable recorder can be mounted on any standard tripod stand.
The Roland R-26 portable recorder is priced at $599 and comes with SONAR LE software.
[Roland]