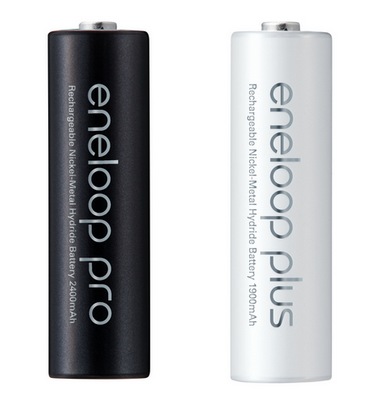 Sanyo adds the new eneloop pro and eneloop plus and their chargers to its line of eneloop rechargeable battery. The former offers 25% higher capacity than regular eneloop batteries while the latter features overheat prevention function which suppresses overheating in case of improper use, making it ideal for toys. In fact the eneloop pro has been released in Europe as XX.


The eneloop pro features a minimum of 2400mAh battery capacity and is able to hold about 75% of its initial capacity and is ready-to-use even after 1 year of storage. The eneloop plus battery sports a PTC thermistor which suppresses overheating in case of improper use, such as incorrect insertion of batteries, and is safer to use for toys for small children. It also has the self discharge control and can be recharged by existing eneloop chargers.
Sanyo also introduces its Wireless Charging Carrying Case that can wirelessly charge the eneloop batteries, by simply placing it on a charging pad which is complaint with "Qi" standards.
Models:
eneloop pro
HR-3UWX-2BP/4BP- AA size Nickel-Metal Hydride Rechargeable Battery
N-TGR01WS – Charger set with Four AA size "eneloop pro"
eneloop plus
HR-3UPT-2BP/4BP – AA size Nickel-Metal Hydride Rechargeable Battery
N-TGN01PS – Charger set with Four AA size "eneloop plus"
N-WL01S-W/-K – Wireless Charging Carrying Case
[Sanyo]