Lensbaby announced its new Sweet 35 Optic, its first optic with an adjustable aperture. This 35mm selective focus optic come with an internal 12-blade adjustable aperture, creating a tack sharp Sweet Spot of focus surrounded by blur.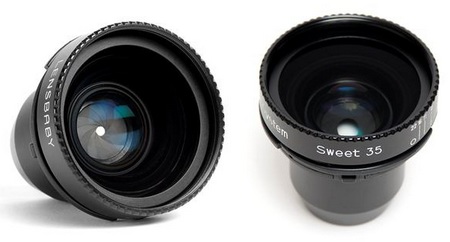 The Sweet 35 allows photographers to quickly and seamlessly change the aperture from f/2.5 through f/22, simply by rotating the dial on the front of the optic. It allows focus down to 7.5-inch from the front of the lens when used with the Lensbaby Composer and as close as 3 inches when used with the Muse.
Lensbaby's Sweet 35 Optic is available for $179.95.
Sweet 35 Optic Product Specs:
Focal Length: 35mm
12-blade internal aperture, controlled by a dial on the front of the optic
Aperture range from f/2.5 through f/22 (sweet spot size ranges from 15%, at f/2.5, to
40%, at f/22, of total image area on APS-C sensor cameras)
Selective focus optic (creates a sweet spot of focus surrounded by gradual blur)
Compatible with Lensbaby Composer, Scout, Muse, and Control Freak lenses*
Focus distance when used with:
Composer: 7.5" to infinity
Scout: 6.5" to infinity
Muse & Control Freak: 3" to infinity
4 multi-coated glass elements, in three groups
46mm front threads