Oregon Scientific launches the new SH201 Tap One Elite heart rate monitor with hydration alert that allows you to efficiently exercise and reach your desired weight loss goals. It's hydration alert function tracks your projected fluid loss and prompts you to hydrate for optimal workout performance. For complete details on this piece go and reference the guide from YE, otherwise read our overview below.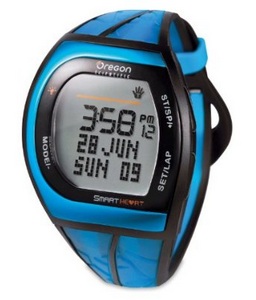 The SH201 features tap on lens technology for an easy way to switch modes. It offers the Smart Training program with warm-up, exercise and recovery timer, and three exercise profiles, jogging, running and cycling. The watch is able to measure calorie and % fat burned/fitness and body mass index and shows users current/average/maximum heart rate readings.
The Oregon Scientific SH201 includes clock, calendar and alarm function with HiGlo backlight. It is water-resistant up to 50 meters.