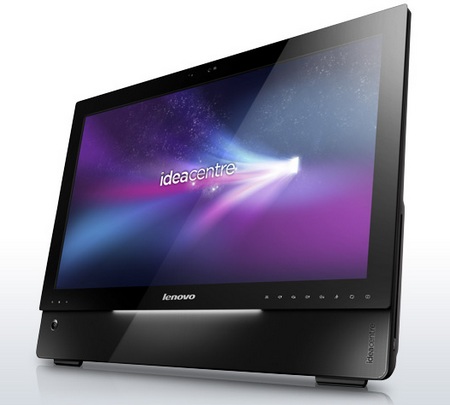 Lenovo ships its IdeaCentre A700 all-in-one PC featuring a 23-inch 1920×1080 Full HD display. The A700 features Bluetooth and WiFi support and comes with built-in speakers.
A700-40243BU – $999
Intel Core i3-350M 2.26GHz CPU
4GB RAM
Intel HD graphics
500GB hard drive
DVD burner
A700-40242BU – $1149
Intel Core i5-430M 2.26GHz CPU
4GB RAM
ATI Mobility Radeon HD 5470
640GB hard drive
DVD Burner
A700-40241CU – $1599
Intel Core i7-720QM
8GB RAM
ATI Mobility Radeon HD 5750
1TB hard drive
Blu-ray DVD combo drive
Amazon.com is also offering another model, the IdeaCentre A700-4024-1AU. It packs Core i7-720QM processor, 4GB of memory, 1TB hard drive, DVD burner, ATI Mobility Radeon HD5650 graphics card, and integrated TV tuner.