Weems & Plath, maker of nautical and weather instruments, launches its Nautilus Collection waterproof, rugged anodized aluminum instruments. The Nautilus Collection includes Waterproof Quartz Clock; High Sensitivity Barometer; Waterproof Quartz Clock with Inclinometer; and the High Sensitivity Barometer with Inclinometer.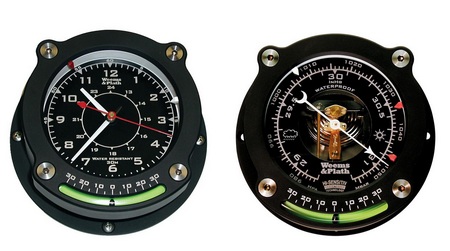 All these products are rugged and waterproof that functions well in the punishing saltwater environment. All products have low glare, satin black case constructed of solid aluminum that is color anodized and sealed so that the finish will not peel, bubble or tarnish.
The Nautilus Waterproof Quartz Clock that offers precision quartz movement,accurate to +/- 15 seconds a month. It is waterproof to a depth of 100 feet. The High Sensitivity Barometer, on ther other hand, features hydrophobic filter allows air to pass yet resists water and is waterproof to a depth of 3 feet for 30 minutes. The other two products are based on the Waterproof Quartz Clock and High Sensitivity Barometer and add the fluid dampened inclinometer.