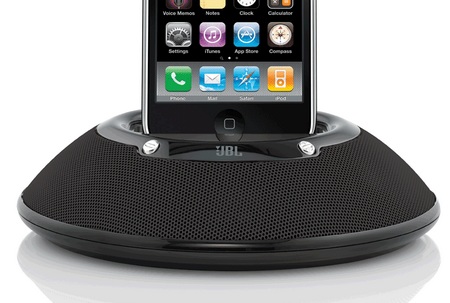 Harman's JBL introduces the new On Stage Micro II, one of the smallest iPod/iPhone compatible speaker docks. The new dock is able to "fill all corners of the bedroom, the kitchen, the office or outdoors with powerful signature JBL sound in a unique, compact design".
The On Stage Micro II features two JBL Odyssey full-range transducers and comes with a remote control. It measures just 6 inches (150mm) in diameter, and weighs in at only 0.3kg. The speaker dock is powered by an AC adapter or four AAA batteries that will provide up to 24 hours of continuous play and there is USB port for connecting to PC/Mac for sync with iTunes. The JBL On Stage Micro II is priced at $129.
Additional Features
Evercharge topology – JBL On Stage Micro II will charge your iPhone or iPod without a computer connection, even when the system is off.
Odyssey transducers – Aluminum-domed transducers deliver accurate, high-frequency response and four octaves of rich mid- to low-frequency sound – in other words, full-spectrum performance.
Slipstream port design – Proprietary port architecture improves bass output while minimizing distortion.
AEMS (Advanced Energy Management System) – JBL On Stage Micro II can operate for up to 24 continuous hours at normal listening levels with four fresh AAA batteries (including NiMH and other rechargeable batteries). To extend battery life, JBL On Stage Micro II automatically enters "sleep" mode in the absence of an input signal. The system awakens at the previous volume level with just a touch.
COE (Computer-Optimized Equalization) – Proper equalization greatly improves stereo imaging. The JBL On Stage Micro II system is computer-optimized to provide a rich, complete soundstage.
OCT (Optimized Compression Topology) – A proprietary compression technology ensures clean, accurate sound at high-output levels.