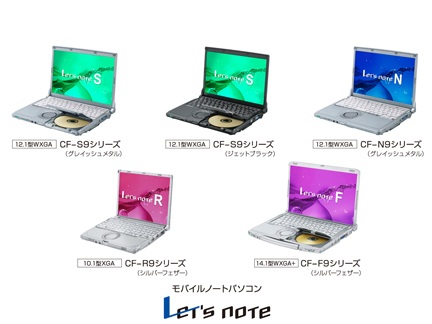 Panasonic updates its Let's Note line by introducing the Core i5-powered CF-F9, CF-S9, CF-N9 and Core i7-equipped CF-R9 ultra portable notebooks, replacing the old F8, S8, N8, R8. All of them runs Windows 7 Professional.
The F9, S9 and N9 are boosted by Intel Core i5-520M 2.4GHz processor while the R9 gets a ultra low voltage Core i7-620UM 1.06GHz CPU. They come standard with 2GB RAM (Max 4GB), onboard graphics and a 250GB hard drive. The F9 and S9 packs also a 8X DVD SuperMulti burner as well.
The Let's Note F9 has a 14.1-inch 1440×900 LCD display while the S9 and N9 feature a 12.1-inch 1280×800 screen. The lightest R9 (0.93kg), also the smallest Core i7 laptop, has a 10.4-inch 1024×768 display. All of them support WiFi 802.11a/b/g/n and include a PC Card Type II slot and a SD card slot. They support WiFi, Ethernet connectivity and even WiMAX (except the R9).
The S9 and N9 offer up to 14 hours of use and the F9 and R9 are capable of 9 hours and 7.5 hours of use respectively. Panasonic's new ultra portables have tough design and have drip-proof keyboard. They will be released on 17 February. In addition to these Core i5/i7 notebooks, Panasonic also updates its CF-Y9, CF-W9 and CF-T9 models.