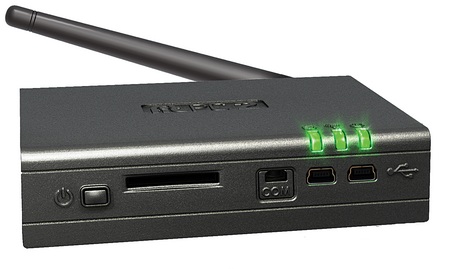 CompuLab introduces the new fit-PC2i ultra compact PC, which is a variation of fit-PC2 targeting networking and industrial applications. Like its predecessor, the fit-PC2i is powered by Intel's Atom Z5xx processor up to 2GHz, up to 2GB of RAM and onboard Intel GMA500 graphics.
The main features of the mini PC is its Dual Gigabit Ethernet LAN ports. It supports WiFi 802.11b/g as well. The fit-PC2i offers a 2.5-inch SATA hard drive bay and a miniSD card slot and users can add the optional onboard 4GB flash memory. There are four USB 2.0 ports, a RS232 series port, and a DVI video output (up to 1920×1080).
CompuLab's fit-PC2i has an industrial grade die-cast aluminum shell and runs fanless at 6-8W. OS choices include Windows Server, Windows 7, Windows XP, Ubuntu Linux. It will be available in January 2010.